Perfect thermal management
SIMPLY INNOVATIVE. BETTER FOR SURE.
STEGO develops and manufactures products for control cabinet climatisation with innovative functions and intelligent design. Our products help users adjust the temperature and humidity perfectly to the conditions in their specific installation space. Our solutions are characterised by their small footprint, high serviceability, certified safety standards and, above all, a long service life due to their outstanding and sustainable quality.
STEGO is "SIMPLY INNOVATIVE. BETTER FOR SURE." If you have any sensitive electronic components that need to be protected from the cold, heat and moisture.
Innovation management
Our drive: the idea
Always on the lookout for something new. Whenever an idea emerges and becomes a reality – in the form of an improvement, an optimised process or a product – we make progress. The idea is the driving force behind our company.
Over the course of our many years of experience, we have been fortunate to have developed a successful culture of ideas to which all employees contribute and help develop the company and its products. All ideas are pitched and a variety of perspectives are introduced. If the idea is well received, the team will elaborate on it.
In many cases, ideas take on a life of their own – that is when the team gets really excited. Out of the idea emerges a tangible result that adds value for our customers – a STEGO product.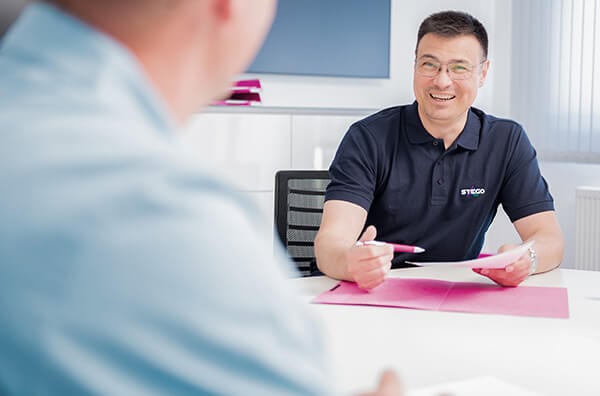 Quotes
Managing Director quote
I take great pride in our spirit of invention, culture of ideas and our team's innovation processes.
These things provide us with the foundation for turning our inspiration into a reality. At STEGO, anyone can contribute ideas and find solutions.
Strategy
Keeping our eyes on the prize
The STEGO spirit animates all activities within the company and is enshrined in our strategy. As a family company, we value our employees and promote them in the sense of a partnership. Our spirit of invention is the driving force behind our actions. That is why "Made by STEGO" is the marker of a high quality product that will promote our customers' success in the long term.
But we haven't lost the freedom and agility of an owner-managed medium-sized company. It is precisely during challenging times that we value the dynamism of our "eyes on the prize" strategy. It gives us the opportunity to adapt our company to new circumstances at any time and keep ourselves focussed on growth.
Key criteria for the success of our customers:

Quality
The outstanding quality of our products resulting from our expert knowledge – Made by STEGO.

Agility
STEGO's agile product development – flexible, proactive, conscientious.

Creativity
Creativity means making something new that is useful and adds value.
Figures, dates, facts
STEGO at a glance
Founding year:

1980

Founders:

Hartmut Eisenhauer, Isidor Gloning and Werner Schmid

Legal form:

Owner-managed company with limited liability (GmbH)

Managing directors:

Elmar Mangold and Mikhail Volkov

Registered office:

Schwäbisch Hall, Germany

International branches:

9 foreign subsidiaries (USA, Brazil, Russia, France, UK, Sweden, Spain, Italy, Poland) and a representative office in China

Distribution:

Distributors in 50 countries

Production/assembly:

In Germany and France

Export quota:

>50 %

Employees:

More than 220 worldwide (approx. 150 in Germany)

Core expertise:

Solutions for protecting sensitive electrical/electronic components in control cabinets and other applications from condensation and subnormal or excessive temperatures.

Products:

Heating, cooling, regulating, measuring, lighting, explosion protection, condition monitoring, accessories
STEGO Elektrotechnik GmbH
Kolpingstraße 21
74523 Schwäbisch Hall
Germany
Stego Worldwide