MARTINA BAUER

+49 791 95058-122

JOBS@STEGO.DE
STEGO Elektrotechnik GmbH
Kolpingstraße 21
74523 Schwäbisch Hall
Germany
Your direct contact
Traineeships
Training and supporting our young workforce is particularly important to us. That's why we're keen to equip you with a host of different high-level personal and professional skills in both commercial and technical lines of work. Whether you're completing a traineeship or a dual study programme, you're sure to be impressed by our offerings to help you get your career off to a successful start.
For your future
First-class perspectives and extensive support
You can look forward to intensive personal support, practical project work and the opportunity to visit one of our international branches. At STEGO, you can get your working life off to the perfect start!
Traineeships
A traineeship at a company that has enjoyed healthy, continuous and reliable growth for decades gives you security and a solid foundation on which to build your future. We offer these traineeships on an open basis. You can find out which positions are still open below.
Warehouse logistics specialist (m/f/x)
Mechatronics technician (m/f/x)
Industrial business management assistant (m/f/x)
Dual study programmes
We are a partner that offers you the opportunity to skilfully combine theory and practice into a single study programme at a technical university. This approach allows you to always try out what you learn in practice, which stands you in the best possible stead to transition seamlessly into your future career. We offer these dual study programmes on an open basis. You can find out which programmes are still open below.
Business Administration, Industry (B.A.)
Mechatronics (B.Eng.)
Electrical Engineering (B.Eng.)
Traineeships and dual study programmes
Current vacancies
This is where you can find our current vacancies. Click on the respective vacancy to obtain more detailed information about the traineeship or study programme. This is where you can also find the option to apply directly online. We're looking forward to receiving your application!
quotes
Quotes from our trainees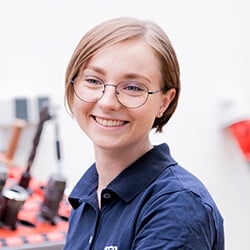 Laura Franjcec
Trainee Mechatronics Engineer
STEGO is not like other companies, as I hear from others at my school. At other companies, everything seems so strict. You have to be quiet and focus on your work. But here, the vibe is really informal and everyone is very kind and helpful.
Take, for example, if we don't understand something at school. Here, they explain everything to us, regardless of how long it takes. You can just talk to anyone – like you're friends, not just colleagues.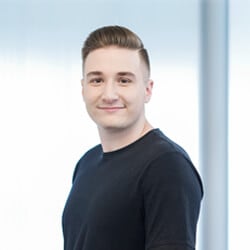 Mirko Lechner
Trainee Salesman
Life at STEGO is very interpersonal. To me, it's important that, as a trainee, I have a name and not just a number. STEGO is a good size of company for that. My boss knows my name. At other companies, there are 500 employees and the boss is pretty much none the wiser as to who anyone is.
As a trainee at STEGO, you can tell you're valued. The company invests in training you, for example by offering you the opportunity to go abroad, the intention being that this investment will ultimately pay off. It's about thinking in the long term and developing the trainees.