SPS 2023 - FOCUS ON SMART SENSORS
STEGO is looking forward to exhibiting again at SPS. Meeting our existing and prospective customers on site in Nuremberg is the perfect opportunity to present the innovations in the STEGO portfolio live. The focus in 2023 will be on smart sensors and the innovative LOOP series of enclosure heaters. Read more about the LOOP and our smart current sensor.
Meet us in Nuremberg at the SPS from November 14th to 16th, 2023.
Your consultation appointment with our sales team is just a click away!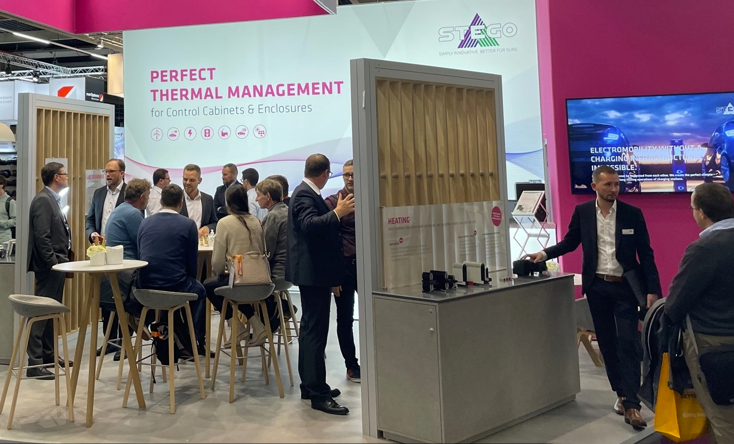 Smart Production Solutions - right in the middle of the action - the SPS trade fair in Nuremberg
SMART WITH IO-LINK
STEGO is regarded as a leading manufacturer of temperature and humidity management solutions for control cabinets, enclosures and technical installation spaces in electrical engineering. STEGO's performance in the field of sensor technology is less well known. Here, STEGO has dedicated itself to smart sensors based on IO-Link. This protocol inherently has the ideal potential for the intelligent integration of sensors in machines and systems. And there, IO-Link is particularly recommended for the further processing of measured data in condition monitoring applications.

Now, at the SPS in Nuremberg, the portfolio of IO-Link sensors is being expanded with the ESS 076 Smart Sensor Current. The ESS 076 measures the current precisely and is ideally suited for use in applications such as power distribution cabinets and enclosures for machine control systems.
ENERGY EFFICIENCY AND SUSTAINABILITY
Monitoring power consumption plays a crucial role in identifying inefficient operating conditions and preventing energy waste in industrial applications. The ESS 076 provides precise measurement of current consumption up to 100 A on wires up to 11.4 mm in diameter.

With an analogue and digital interface for seamless integration, this innovative sensor offers the ability to collect energy efficiency data and precisely monitor energy consumption. The ESS 076, with its high-precision measurement technology, makes it possible to effectively manage energy costs, sustainably reduce operating costs and make informed decisions for energy efficiency projects or capacity expansions.
The Loop - VIBRATION-PROOF HEATING
Re-Loop: Rediscover STEGO's groundbreaking enclosure heaters with their loop profile heating body. This innovation offers five heating series from 10 to 150 W output, certified safety against shock and vibration, and easy installation with pressure clamps. The Loop heaters prevent condensation in the enclosure and ensure constant temperature and humidity to protect electronic components.

The eye-catching loop design of the aluminium profile strand of the heating body ensures efficient heat transfer. Touch safety, integrated thermostats and shock/vibration resistance make them the ideal choice for demanding applications such as railway applications and wind power. We will be happy to advise you individually at the SPS!
EXPERT DISCUSSIONS AT SPS
We at STEGO are eagerly anticipating your presence at the SPS event where we'll have the opportunity to showcase the remarkable benefits of our latest current sensor in person. We're dedicated to providing comprehensive explanations of the cutting-edge features of our thermal management products, making them easily comprehensible during one-on-one conversations.
Join us at SPS in Nuremberg, at booth 268 in hall 3c.
STEGO is excited to welcome you to SPS from November 14th to 16th, 2023, and to introduce you to the advantages of our innovative current sensor. During a personal discussion, we will make the innovative features of our displayed Thermal Management products crystal clear and easily understandable. Secure your complimentary admission voucher now and schedule your individual consultation. We are eagerly anticipating your visit!